2019 Deutsche Bank Awards for Creative Entrepreneurs announced
Last night five winners of the Deutsche Bank Awards for Creative Entrepreneurs (DBACE) were announced, winning a share of £50,000 for their creative business. With the creative industries contributing more than £100 billion to the UK economy every year, DBACE supports young UK-based entrepreneurs driven by a mission to build and sustain social value through enterprise. The programme is part of Deutsche Bank's global social enterprise programme, Made for Good, and has been delivered in partnership with not-for-profit creative industries incubator MeWe360.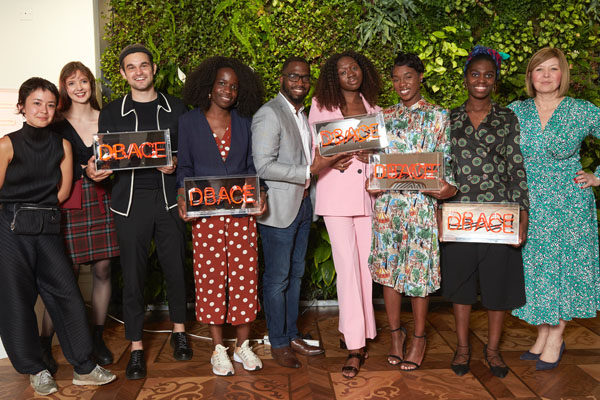 The winners were revealed at a ceremony hosted by Gemma Cairney¹ (BBC Radio 1) at The Conduit in the heart of London's West End. The five winners are:
Activate the City! – Karen Jelenje
Encouraging and empowering young people in Bristol to become community champions and work locally to transform vacant and redundant space that would otherwise be used for fly tipping, loitering and illegal activity. The youth-led transformations become public space to provide wider social and economic benefits in disadvantage communities.
Black Ballad – Bola Awoniyi & Tobi Oredein
A subscription lifestyle media brand empowering black women globally by celebrating their culture, community and stories. By championing black female writers and creators, the Black Ballad membership provides access to content, events and experiences that rebalance the lack of representation in media.
Bukky Baldwin – Ibukun Jesusanmi Baldwin
An ethical fashion and textiles company based in Manchester aiming to empower marginalised communities. The brand has been collaborating with refugee and homeless charities to provide individually catered training programmes that are both practical and holistic in nature.
Mental Health The Arts – Angela Awuah
An early intervention creative arts academy for young people in South London between the ages of 13 and 25 with direct and indirect experience of mental illness. Educating, equipping and empowering young people to cultivate creative coping mechanisms through talks, workshops and the arts.
Petit Pli – Ryan Mario Yasin
Designing out waste across the entire garment value chain by engineering versatile garments that grow as the wearer does. The garments are embedded with a patent-pending auxetic structure, which expands bi-directionally to mimic the growth of children aged nine months to four years - that's seven sizes and seven times less waste.
DBACE supports ambitious individuals from all backgrounds with sustainable ideas that will improve the lives of others and the communities we live in. Beyond winning a share of the £50,000, the prize package includes ongoing support for the year ahead, providing the winners with bespoke business support, mentoring and access to industry networks as part of a 12 month membership with MeWe360.
Established in 1993, the longstanding awards of 26 years have undergone a transformation in 2019. Now focusing on social creative enterprise, Deutsche Bank is working with MeWe360 to develop a programme that has encouraged entries by entrepreneurs from diverse backgrounds, broadening the cohort of applicants and the variety of creative enterprises involved.
Nicole Lovett, Head of Corporate Social Responsibility UK, Deutsche Bank, comments: "After more than a quarter of a century supporting emerging creative enterprise in the UK, this year was the right time to look at DBACE with fresh eyes to ensure it reflected modern Britain and welcomed inspiring entrants with great ideas from a multitude of backgrounds. The quality of the 2019 applicants has been outstanding, making the judging very difficult indeed.
The five winners demonstrated original and exciting creative business ideas with sustainable models that look ahead to ongoing success. The prizes awarded mean far more than money, they offer a year of support and mentoring to give our winners every chance of success, shining a light on their ingenuity and the importance of the creative industries to the wider UK economy."
Kevin Osborne, founder and CEO, MeWe360, comments: "We are looking forward to working closely with the five winners in the coming year and to supporting them with mentoring and networking so that their businesses thrive. We're immensely proud to have been invited by Deutsche Bank to partner on this year's DBACE and are excited by the potential of the partnership to help many future young entrepreneurs on their journeys to success."
MeWe360 is a UK social enterprise incubator for the creative industries. A not for profit, charitable organisation, MeWe360's mission is to uncover the UK's hidden leadership talent so that entrepreneurs from all backgrounds can develop thriving enterprises.
MeWe360 has a roster of high calibre industry mentors and consultants as well as a vibrant membership network of creatives from across the UK. MeWe360 was established in 2012 by Kevin Osborne, a social entrepreneur with over 25 years' experience developing talent in the creative industries. Current funders include Arts Council England and The Arts Impact Fund.