Deutsche Bank supports IDAHOT Day and demonstrates commitment to an inclusive culture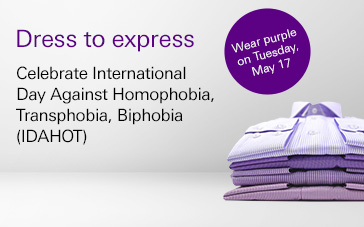 On Tuesday May 17, Deutsche Bank employees around the world were invited to come together to support the International Day Against Homophobia, Transphobia & Biphobia (IDAHOT) and support an inclusive working environment. IDAHOT is celebrated annually to raise awareness of discrimination and sometimes violence against LGBT individuals and their allies worldwide. Employees were invited to demonstrate their support for LGBT rights and inclusion by wearing purple.
Deutsche Bank is proud of its commitment to build an inclusive work environment. This was highlighted in its recent announcement to freeze expansion plans in Cary, North Carolina as the result of state legislation which invalidated existing protections of the rights of lesbian, gay, bisexual and transgender fellow citizens in some municipalities.
Deutsche Bank has also sponsored an event entitled Multi National Corporations: LGBT Equality and The Global Economy which was held in New York and broadcast around the world. The event explored the risks and rewards of LGBT inclusiveness for MNCs operating in various jurisdictions. Speakers included: Paul Singer, Founder, Co-Chief Executive Officer and Co-Chief Investment Officer of Elliott Management; Fred Hochberg, Chairman and President of the Export-Import Bank of the United States; and Indian Crown Prince Manvendra Singh Gohil, India's first openly gay prince; moderated by Jill Schlesinger of CBS News.
Further links on the topic